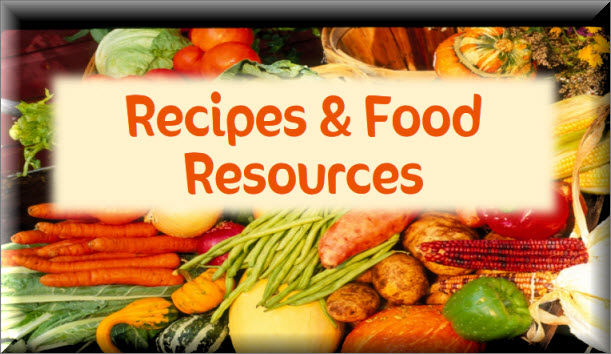 Following are recipes and food resources gleaned during Internet reference searches.
I've received no compensation for these listing, except an occasional link exchange.

Please report "dead" links to
appleseeds[at]franciscan[dot]edu
---

updated: 05/08/2023
Love & Lemons Recipes: Includes recipes for Dinner, Salads, Soups, Breakfast, Vegan, Brunch, Baking, Snacks, and more.
Food Network - Kid-Friendly Recipes: Whether learning math skills, nutrition basics, or building self-esteem, kids can pick up a lot from cooking.
Around the World in 7 Chicken Wings (Food Network Kitchen): We took a spin around the globe (think Morocco, India, Greece and more) to reinvent this classic party food seven ways.
Our Best Apple Recipes — Food Network: "You'll find that this sweet and delicious fruit is perfect for perking up everything from sandwiches and salads to breakfasts and baked goods."
Mardi Gras Recipes (AllRecipes): Find Mardi Gras King Cakes and recipes for classic Cajun and Creole favorites like gumbo, jambalaya, hurricanes, and more!
Recipes for Lent (Catholic Cuisine) – Recipes for Lent
Easter Recipes & Menus (Food Network): Breakfast, Dinner, Dessert and Sides.
Fourth of July Recipes and History (The Old Farmer's Almanac)
Martha Stewart Season's Eatings: Celebrate from Thanksgiving to New Year's with our menus, strategies.
Holiday Baking - Taste of Home: Delicious favorites like cinnamon rolls, sticky buns, stollen, scones, muffins, fruitcake, yeast breads, quick breads and coffee cake.
The Holiday Entertaining Arsenal (NY Times): Arm yourself with recipes for hors d'oeuvres, drinks, main courses and desserts to feed a small, festive dinner party or a big holiday crowd.
Holidays & Parties - Food Network: appetizers, recipes, desserts, mixed drinks.
Holiday Recipe Section - Food Reference
Holiday Recipes from Ochef.com
Thanksgiving, Christmas, and Holiday Recipes (The Old Farmer's Almanac)
DIY: Christmas. The Do-It-Yourself Holidays site 'has the recipe for a perfect holiday season: fabulous food, cozy gatherings, fun seasonal crafts, and handmade gifts.
20 Best St. Patrick's Day Recipes: reflect true Irish fare—from soda bread to corned beef. Google | Ask
Best Super Bowl Recipes (Food&Wine)
Thanksgiving Planning Guide (Butterball): Preparing for the holidays is hectic enough. That's why Butterball put together a helpful guides to help make your holidays easy and delicious.
Food Safety Tips: Index
Drinks Mixer: Includes Bartender Guide, Glossary, Search for drinks recipes, Measurements and Terminology.
Napkin Folding 101: learn how to fold many designs
Nutrition - National Agricultural Library, Food and Nutrition Information Center. "The Best Nutrition Information at Your Fingertips." Answers numerous nutrition related questions, provides helpful hints on planning nutritional meals, food recalls, and food safety. People trying to lose weight can find suggestions for weight control through exercise and proper nutrition. Users can also find useful information about food composition and how your diet can prevent or help manage diseases.
Removing Stains – Cleaning & Laundry Tips by Clorox.
"The Science of Baking": "It's said the cooking is an art, baking is a science. Here are some simplified explanations of how and why the most common ingredients do what they do.
Tips for Healthy Eating (Guardian Insurance)
---

Graphics are used with permission from ChurchArt Online. These images are not to be copied.