Pastor Marty Toepke-Floyd
download PDF
---
T

HE LORD is my Caddie,
I shall not shank.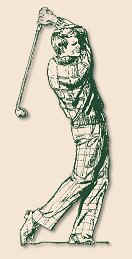 God knows the course and
leads me down fairways to greens.
He helps me pass sand traps and over water hazards.
God makes my strokes strong and my putts straight.
Even when I walk under dark boughs and through the rough.
And my opponents mock my misfortunes.
Your club comforts me and my shot finds the cup.
You restore my confidence and steady my hands.
Surely good putts and mulligans shall follow me.
And I will dwell in your clubhouse at the end of the round.
'Holey Humor Sunday'
Pastor Marty Toepke-Floyd
via The Joyful Noiseletter, March-April 2020, p. 4
---