O Lord Jesus Christ, our God, we ask You to accept our heartfelt prayers and forgive us our transgressions.

Remember our enemies, those who hate us and oppress us, and repay them not according to their deeds, but rather give them reason and understanding, according to Your great mercy, so that they may see that evil cannot bring good.

Deliver Your Church and Your faithful people from every evil with Your mighty hand. Help us, O God, for You were crucified and died for the salvation of all. Help us, that among us and in all the world, hatred may be replaced with love, unrest may be replaced with peace, and sorrow may be replaced with happiness, that we have a peaceful life as Your people and live as brothers and sisters with one another.

O Most Holy Mother of God, we turn to you in prayer, because you know a mother's pain for her Son who suffered and was crucified. Comfort the anguished mothers and fathers suffering for their children who are experiencing attacks, violence and persecution. Preserve us from the hands of evil-doers and save us and them from every evil and sin.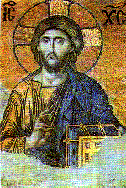 We turn prayerfully also to you, O God-pleasing martyrs, that you who stand before God may pray to Him to preserve and protect our country and our people from injustice, violence, quarrels and disunity. In repentance we confess that we are neither hot nor cold in our zeal for the truth and justice of Your Heavenly Kingdom, because we have abandoned that first love which You had embraced.

O God of peace and love, help us to return to the path to You. Remove not the candlestick of our Church from Your sight, because You are the God of mercy, goodness and the Lover of mankind, and unto You we ascribe glory, to the Father and to the Son and to the Holy Spirit, now and ever and unto ages of ages.

Amen.