"I arise today
Through the strength of heaven:
Light of sun,
Radiance of moon,
Splendor of fire,
Speed of lightning,
Swiftness of wind,
Depth of sea,
Stability of earth,
Firmness of rock.
I arise today
Through God's strength to pilot
me:
God's might to uphold me,
God's wisdom to guide me,
God's eye to look before me,
God's ear to hear me,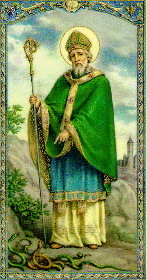 God's word to speak for me,
God's hand to guard me,
God's way to lie before me,
God's shield to protect me,
God's host to save me
From snares of devils,
From temptation of vices,
From everyone who wishes me ill
Afar and anear
Alone and in a multitude.
I arise today
Through a mighty strength,
the invocation of the Trinity:
Through belief in the Threeness,
Through confession of the
Oneness
Of the Creator of Creation."